Fitness background
Rebecca Roach is the face behind EveryBod Fitness, EveryBod Vitality, EveryBod Pilates, BOOsT Camp and Forward Steps Running Club.
Although I have been involved in sport & keeping fit for much of my life I have also worked outside the fitness industry both in the private and public sector, plus I have run my own Ltd Company. This helps me understand & appreciate the day-to-day pressure of the working life and how important the work/life balance is. I have also been a career for family members (for both mental health and physical health) and I strongly believe in the importance of exercise as a stress release.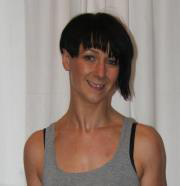 Personal history
Formally from Baildon, West Yorkshire with a little bit of Kiwi thrown in, I now live in Churwell, Leeds with my husband and two daughters. I enjoy keeping fit through gym training, Boxing, Pilates, Circuit Training & Core Stability. Cooking is my other passion
Aims & Objectives
I am here to give you clear, expert advice to help you achieve your health and fitness goals. I will help you see results faster using proven, balanced and innovative methods. I offer friendly motivational support, and can work with you to tailor a realistic, effective plan to get the most of the time you spend exercising.
Qualifications
I believe in backing up all my knowledge with industry recognised qualifications. I have a wide range of fitness qualifications and experience including:
REPS Level iii Personal Trainer & Advanced Instructor
REPS Level iii Pilates. Plus Anatomy & Physiology
Gym Instructor OCR
Circuit Training
Torso & Core Stability
Nutrition & Weight Management
Mat Pilates (Fundamentals, Improver level & Advanced)
GP Referral
Psychology of Behaviour Change
Applied Sports Nutrition
Boxercise
Kettlebells
ViPR
Sandbells
Circular Strength
MMA (Mixed Martial Arts)
Power Plate Vibration Trainer
Boot Camp Coach
Primal Flow and Functional Specialist
Biomechanical screening
Postural screening
Pre & postnatal
Exercise for Ultimate Weight Loss
Run England Coach
| Class | Location | When |
| --- | --- | --- |
| EveryBod Pilates - mixed ability | ActivZone, Texas Street (just off A650), Morley | Monday 7:05pm-8pm |
| Boost Camp - outdoor Fitness | Dartmouth Park, St Andrews, Morley | Tuesday 6:30am-7:15am |
| EveryBod Pilates - mixed ability | ActivZone, Texas Street (just off A650), Morley | Wednesday 10:30am - 11:15am (term-time only) |
| Boost Camp - outdoor Fitness | Dartmouth Park, St Andrews, Morley | Thursday 6:15pm-7pm |
| Forward Steps Running Club | meet at Morley Leisure Centre, Morley | Thursday 7:15pm-8/8:15pm |
| Boost Camp - outdoor Fitness | Dartmouth Park, St Andrews, Morley | Satuday 8:00am-8:45am |
| various cover | including Virgin Active, LA Fitness, Total Fitness, Greens & Leeds City Council | various days & times |
We can provide a range of classes in different disciplines running in a variety of locations from Health Clubs to Commercial Premises to Church Halls to outside. We will work with your equipment or for some classes can supply our own.
Other types of Classes offered:
Boxercise
Stability Ball
MMA
Circuit Training
Skipping & abs
Kettlebells
Sandbells
VipR
Pre Natal
Please get in touch if you would like to book Rebecca Roach for a class. We are also available for cover work.
REP's Certified
Rebecca Roach: I am a member of REPS (Register Of Exercise Professional - REPS no R0042825) which means I have to work for and gain CPD points (Continuing Professional Development) on a yearly basis which ensures my skills and knowledge is up to date. REPS membership is my Licence to Practice. I have also held an up-to-date first aid certificate for over 25 years, CRB checked and am fully insured.